Weekly Update

☀️ summer sale ☀️

☀️ All framed and unframed art - No Tax

☀️ 20% off custom framing

☀️ 30% off all framing ( including in stock frames ) when printing at SoHo ! Both Kodak Kiosk and online printing
Monday -Saturday 10-6
Sunday 12-4
#NoPlaceLikeRoncy
#111 Roncesvalles ave 
******
#roncesvalles #roncesvallesvillage #roncy #shoproncy #shoplocal #curbsidepickup  #pictureframes #pictureframing #custompictureframing #design #homedesign 
#blogto #toronto #the6ix #torontolife #annualsale #totontoblogger #torontokart #torontoartist #localart 
1. Are you open ? YES!
We are open 7 days a week !
Monday - Saturday 10 am - 6 pm
Sunday 12 pm - 4 pm
NO APPOINTMENT NEEDED !
2 . Do you have a sale going on ?
YES !

☀️ summer sale ☀️

☀️ All framed and unframed art - No Tax

☀️ 20% off custom framing

☀️ 30% off all framing ( including in stock frames ) when printing at SoHo ! Both Kodak Kiosk and online printing .
3. How long does it take to get something framed? Depending on size & availability about 10 days , we also offer SAME DAY service !
4. Which standard sizes do you carry for ready made frames?
Click here to download : Standard Sizes Price List . Also available for purchase online !
5. I got a ready made frame! How doI put my art in ?
6. Do you offer printing ?
Yes ! We offer printing :
A. We have a Kodak Moments printer where you can print from your phone 4x6, 5x7 & 6x8
B. We print in house on the spot 8 x10 to 16 x20
C. Large format printing up to 40X60 - 3 days turn around.
** All images to be printed can be uploaded for printing and be framed for easy curb-side pick up ***
Learn More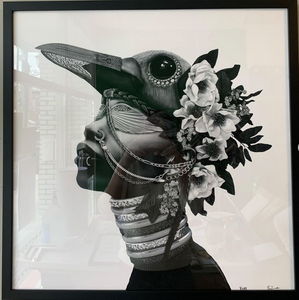 Conservation Custom Framing
The main purpose of a frame is to preserve and showcase your art or keepsake while properly protecting it from damage in the years to come.
For any piece that is valuable, collectable, original, or of great long-term sentimental value, it's important to use the right materials to preserve it.
At SoHo we only use conservation materials : framing glass, acid free backing and acid free tape is always used.
If something is worth framing, it's worth framing right.
Art credit : Yung Yemi - Framed in Roncesvalles Line Black 3/4 wood profile.
View Services
Find Us At
111 Roncesvalles Avenue
Toronto, M6R 2K9, CA
416-531-2047
Monday - Saturday : 10am - 6 pm
Sunday 12 - 4